The work kept coming in but the software I ordered to get it done sat in a pile of red tape. The situation lingered for months but fortunately, I found a solution: free software. I was able to locate free alternatives for nearly all of the commercial applications I was waiting for.
Free software exists for just about any type of application: word processors, antivirus protection, photo, video, and sound editors, computer backup, CD / DVD burners, 3D modelers, etc. Check out the list of popular titles at the end of this entry. Quality is dependent on the particular product, ranging from buggy, beta releases to full-featured, robust applications that can meet or exceed rival commercial software.
It is important to understand that there are different types of free software. They are generally categorized as freeware, shareware, or open source. Freeware usually refers to software that can be downloaded and used for free but with little or no support and no access to its source code. Shareware can be tried for free but you are expected to pay for it if you continue to use it after a trial period. The shareware developer has full control of the intellectual property and is responsible for providing support and enhancements. Source code access is restricted. Open source software is released with its source code and is free to use, modify and redistribute. It is supported by an online community of developers and users.
So why would you want to use free software? If you're interested in learning a particular type of application, you can download a program for free and dive right in without any financial investment. Afterward, you might stick with the free one if it suits your needs or go further and purchase a commercial program. Sometimes a commercial application might be too complicated, incompatible with your computer's hardware, too buggy, or causes conflicts with other software. I once had problems with two different commercial antivirus programs so I decided to switch to a free one. Unlike much commercial software, open source is usually updated frequently and problems are quickly rectified. Finally, because there are no licensing costs you can use it on as many computers as you'd like.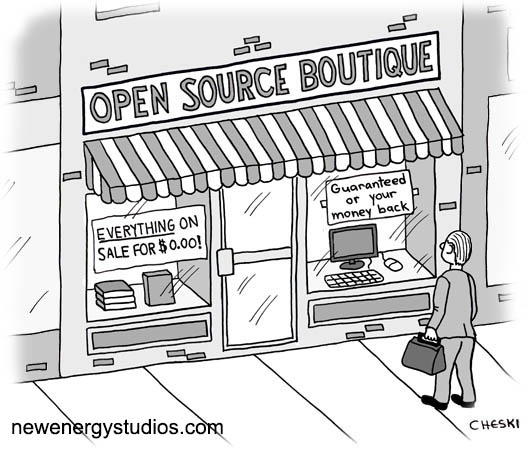 Free software is not without its downsides. In the case of open source, it is often developed by programmers for use by other programmers and can be much less user-friendly than commercial software. Unlike commercial software, there is no one-on-one support available. Instead, support is provided through forums and there is no guarantee that your particular issue will ever be resolved. Development of an open source program could cease indefinitely without warning, or never make it past a beta stage. It's a good idea to check how long a program has been around before deciding to invest a lot of time in it.
Where can you find free software? An excellent place to start is at Sourceforge.net where you can search from thousands of open source titles. Check out the links I've listed below for other good sites.
Eventually, I received all of the software that I requested on my job but some of the free applications I'd found were so good that I continued to use them alongside the commercial ones. Regardless of whether you're in a bind like I was, exploring the free software available is well worth the effort. You can't beat the price!
Popular Titles:
Links